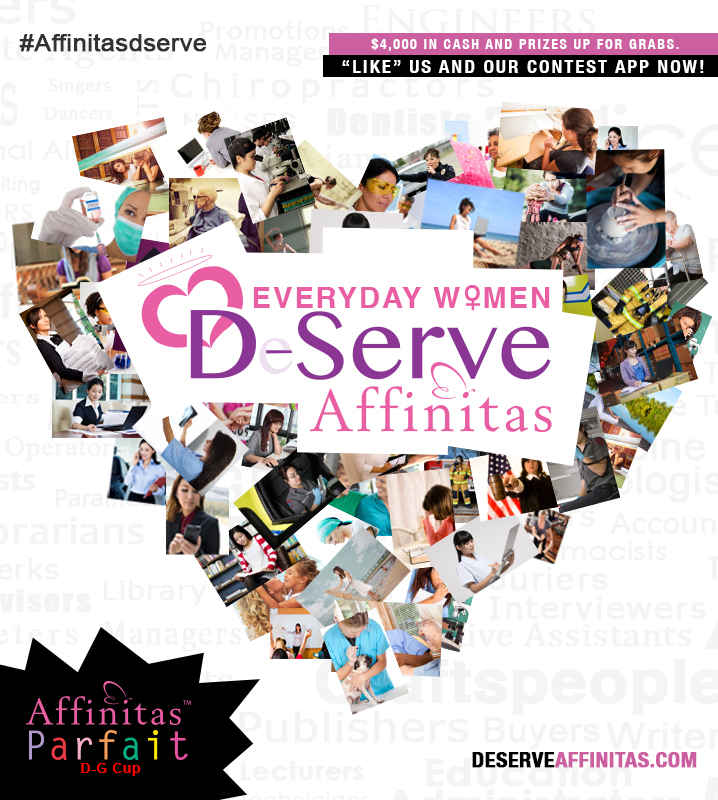 New York, NY 2 April 2013 – Announcing the "Everyday Women D-Serve" campaign from lingerie powerhouse Affinitas, encouraging everyday women across America to indulge in affordably luxury - because they deserve it! In an effort to recognize everyday women who might usually go unnoticed, the LA based brand is asking fans to step out and nominate a woman who has made a positive impact in their life. A mother or sister, teacher or co–worker, neighbor or friend, impact big or small – Affinitas wants to give all everyday women their time to shine!
The winning nominee will receive an American Express Gift Card in the amount of $3000 (talk about retail therapy), and an Affinitas or Parfait bra/panty set once a month for a full year. The nominator doesn't go unnoticed either – she will receive a $500 AMEX Gift Card for sharing the winning nominee's story! The contest goes live at DeserveAffinitas.com Monday, April 8th.
In order to enter, fans must submit their nomination at DeserveAffinitas.com by June 30th, 2013. Affinitas will narrow down to the Top 20 entries. Now it's up the fans! Stories will enter a public voting round from July 22nd – November 4th narrowing down to the Top 3 Finalists, where fans will be encouraged to vote on who they think has the most inspiring story as an Everyday Woman. From here Everyday Women D-Serve Guest Judges, GALTime.com and Fashion Writer & Stylist Samantha Lim, will step in to choose the final Grand Prize duo.
The lucky winners (nominee and nominator) will be announced on DeserveAffinitas.com Friday, November 22nd! Says Affinitas Marketing Coordinator Carrie Lam:
"We know how easy it is to bypass life's little luxuries when you're busy and on-the-go handling your everyday life – and we want to change that. We hope through this contest to not only shed a spotlight on everyday women across America, but to introduce them to a world of Sophisticated & quality lingerie at affordable prices they can access and truly deserve!"
About Affinitas Slipping everyday women into a little piece of luxury.
Affinitas, from the word "Affinity" meaning, "a natural liking or attraction to a person, place, idea, or thing." 
Sexy or sweet? Take your pick with Affinitas' wide selection of Sophisticated & quality lingerie at affordable prices lingerie, offering the young, stylish woman fresh, innovative styles and silhouettes at a size range of 30-38 A-DD and XS - XL. From your go-to T-Shirt Bra to a special occasion Bustier, Affinitas lingerie ranges from everyday wear basics to on–trend to sexy-yet-sophisticated pieces for those special moments. Whether you're feeling flirty and glamorous, elegant and feminine, or want to channel your inner vixen, Affinitas has a look to match your mood. Made of fine, soft materials sourced from all over the world, Affinitas ensures you can wear any piece from the line all day long…or just for a few minutes! The Affinitas woman is independent and confident, fashion-forward and discerning, wishing for stylish, comfortable, quality lingerie – at prices that won't break the bank.
A celebrity fave, Affinitas collections have been worn by Ashley Tisdale, Jennifer Love Hewitt, supermodel Irina Shayk and more, as well as are frequently pulled by top fashion, celebrity & wardrobe stylists.
Constantly expanding to meet your needs, wants, and desires, Affinitas makes it their mission to have you covered (well, mostly) for every occasion. Affinitas collections are available at numerous speciality, boutique & e-commerce stores throughout the U.S., Canada, UK, Europe and the globe.