Hope all you mother's had a lovely Mother's Day weekend! I know I did as I sipped on bottomless mimosas with my dearest mom for Sunday brunch.

Friday at the Affinitas office was just what we all needed to kick-off the weekend. Natalie, an employee within the logistics department, was surprised by her "into the wild" baby shower! The break room was crawling with monkeys and bears… oh, my!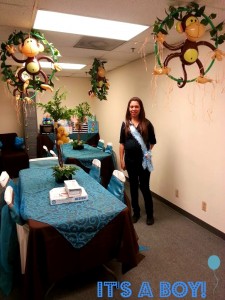 In other news, AOL style gave the fashion world a sneak peek at our Autumn/Winter 2014 collection in just under 3 minutes! I don't want to spoil it all, but you can it watch here. Parfait was also featured on BuzzFeed Style and ranked as a gorgeous lingerie brand for busty women!
Before I end this post I just want to let everyone know that our catalog is looking pretty snazzy! Our sales rep said that it's by far our best catalog thus far! Great way to start the spring season.