Last week was definitely press week at Affinitas! We were asked to take part in a luxurious photoshoot with Arsenic the Magazine, "Danielle" was reviewed by All's Fair in Love and Lingerie and Parfait "Charlotte" won best push-up bra in 2014 by HerRoom!
We received an unexpected phone call from Arsenic the Magazine to take part in a next-day photoshoot promoting, not only our lingerie, but Brachelle Jewelry. The models were covered in head to toe with glistening diamonds, as they slipped into Affinitas and Parfait to strike a pose. Models featured were Jaclyn Swedberg wearing Parfait "Tamara" and Sarah stage in Affinitas "Nicole".  The pictures were a tease, and left us wanting  more. We can't wait to see the feature!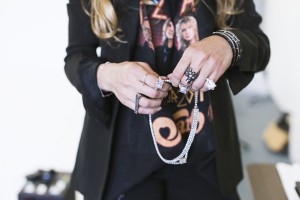 We all love Parfait "Danielle", so it was no surprise to hear that the 60s-inspired style received a perfect score from the lingerie blog All's Fair in Love and Lingerie. "If I had to describe Daniel in one word, it would be 'sturdy,'" said the blogger. In case you haven't read the review, here's a summary why the blogger is head-over-heels for "Danielle":
-          Danielle scored major points for offering buttons, instead of bows
-          Elegant lace along the edge of the cups
-          Soft and "REALLY nice to look at"
-          A true logline than anything the blogger has trusted thus far
"Danielle" is fancy, but have you met Parfait "Charlotte"? Last week, she was ranked best push-up bra by HerRoom! "Charlotte" is our best-seller that continues to come i na range of colors- purple wine/black just released! Affinitas "Allison" was also recognized as a select t-shirt bra.