Wow we are already mid way through July, time is flying by as we have so many projects coming up! We have heard back from all of our top 20 entries in the "Everyday Women D-Serve Contest," we will be making the announcement next Monday.  You won't believe the strength and courage these women have displayed, we can't wait for the voting to begin to show the world!
Aside from preparing the voting for the contest, we are in midst of preparing for the Curve Expo next month in New York and Las Vegas.  We have already shipped all the samples to the show and are working on the posters for our exhibit.  We have some great pictures this season, our booth is going to look awesome.
We also receiv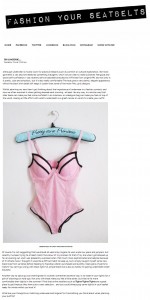 ed some more feature on our Serena collection (its getting great feedback these days!), this time it is from "Fashion Your Seatbelts" (what a cute name).  They reviewed our Serena body piece and included a lovely picture of it.