We are holding another model casting today, and we had one that we think would be great for our catalog.  We still have more to come so we won't put all our eggs in one basket just yet!

We had a great review come in today and its the first review for our Charlotte 28″ band.  We are honored to have Miss Underpinnings, Cecily, review the Charlotte Padded Bra in dusty pink and the highwaist brief.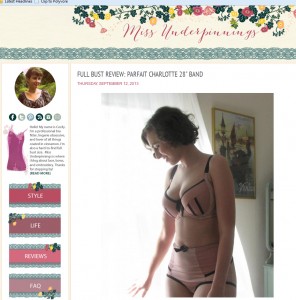 Might we add that she looks fabulous in the matching set!
In other news, our retailers winning the Intima Gala awards were recently featured in Lingerie Insight, congrats to all the winners! Keep up the good work.