Happy Monday, all! Casting takes place this week, but I had a few long-legged ladies drop by earlier last week (date mix-up). As they introduced themselves, I thought to myself "um, where's the girl from the picture I asked to come in?". I realized I, like millions of other women, had forgotten that models never look as they appear in magazines. Now, this does NOT mean that these ladies were hideous. It was just an eye-opener. We criticize our bodies and faces by comparing ourselves to something that isn't real.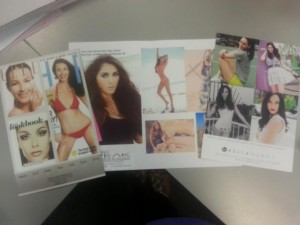 These women were petite, but had flaws like every woman on this planet. From celulite to poorly performed augmentations- you name it! But, I will say that these models were STILL confident. Instead of judging our imperfections, let's embrace our blessings.

Since we're still in the process of executing our campaigns and there isn't much to report currently, I thought I'd take this moment to introduce my confident team players. After all, I do speak of them sporadically throughout my posts. We're almost outta here!