Happy St. Patrick's Day, everyone! I hope you all had a wonderful weekend. I know I did!
A relaxing weekend in Santa Barbara was a must after last week's intense brainstorm meeting. If you follow us on Facebook, you know all about Affinitas new Cupcake Panty. If you don't, where the heck have you been? I've only been talking about it for the past month or so. Let's all get with the program.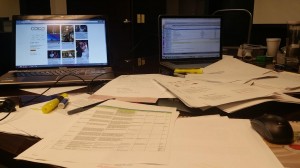 Anyways, the meeting. Intense, but what do you expect when you're bringing a new, fun panty into the market? We need to launch a campaign just like any other product: a logo, social media presence, contests, events, advertisement, the whole sha-bang! It can be quite draining, but SO much fun and rewarding at the end!
Next on the agenda is finding a model for the Affinitas and Parfait catalog for spring/summer 2015. Affinitas, not a problem (34B bust). Parfait, problem (34E bust). This will definitely be a mission considering we are looking for all natural women. Once I find my two models, I'll need to find a shoot location. I'm thinking a botanical garden. We shall see what the future has in store for us.