Happy Monday, all! Daylight saving time has a few of us in the office with our head on the desk (yawn), so please disregard any typos or grammatical errors! We are NOT drunk.

Let me begin by saying thank you to Sweet Nothing NYC for writing  a somewhat positive review for our Lingerie Fashion Week show. Although our presentation had shown promise, our show's tardiness has been marking us down a few points. We greatly apologize for the delay (shout out to the ladies in heels!).
In other news, Affinitas marketing department has had their thinking cap on since their return from New York: new campaign,  new webpage, new logo design and, for the first time, a new street promo. I'd love to share, but it's strictly confidential…. oh, what the heck. I love a tease, and these new graphics!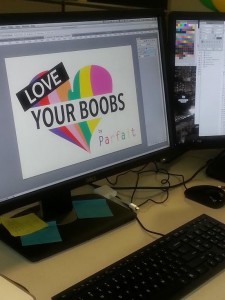 What's also new is the remodeling of our showroom! We hope it'll be complete before we start casting for our next catalog models, which I will keep you all posted on. I've already received modeling packages, and, boy, is it hard to pick and choose when every woman in your email is gorgeous! I'll definitely need your help. Have a good week, everyone!