Sorry for the delay in our posts we have been so busy this month but we have a lot of great news to share!  First off, today is a very exciting day for us as our Affinitas Ida Bustier in Black and our Parfait Fiona Padded Camisole in Red are going to be on "The Carrie Diaries" tonight so remember to tune in to the CW to catch it.
Not only is our product making a national debut on television, our lovely Nina in cameo pink is featured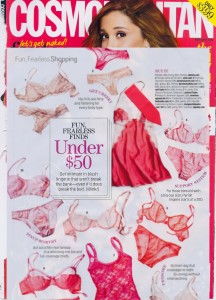 in their "Fun Fearless Finds Under $50."  And on top of all that great news, we have trade shows lined up in Paris, England, Las Vegas and New York to showcase  our beautiful AW14 products.  With tradeshow season, it also means its time for Lingerie Fashion show where we will have our exclusive runway show.
Now for one more important yet secretive update.  We were at a photoshoot yesterday but what we were doing is still top secret as the product is not available to consumers yet but what I can say is we had a very beautiful model whom you may recognize if you recall a certain Parfait catalog of ours.  She made our products look fantastic on her and really helped it shine.